Siuslaw River Bridge (Florence, Oregon)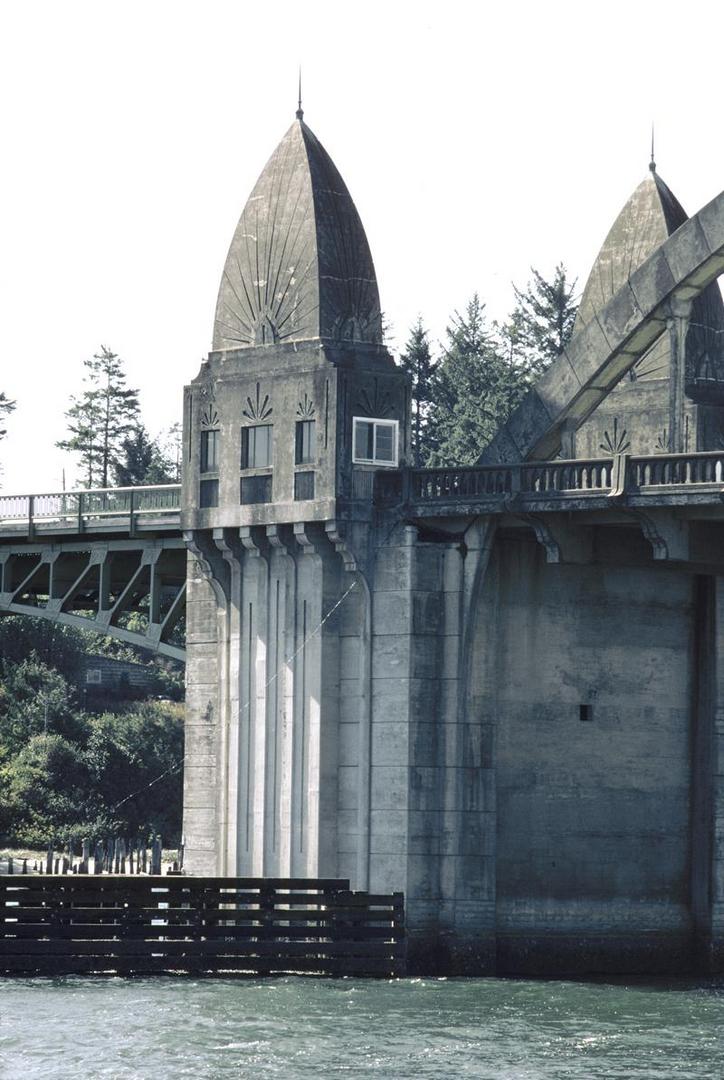 Title

Siuslaw River Bridge (Florence, Oregon)

LC Subject

Creator

Photographer

Creator Display

Conde Balcom McCullough (engineer, 1887-1946)

Mercer-Fraser Company (builder/contractor)

Description

National Register of Historic Places (Listed, 2005)

View

view of concrete ornament

Provenance

Design Library, University of Oregon Libraries

Temporal

1930-1939

Work Type

Location

City of Florence >> Oregon >> Pacific Northwest Lane County >> Oregon >> Pacific Northwest Oregon >> Pacific Northwest United States

Date

1936

View Date

1985

Identifier

pna_15823.jpg

Item Locator

Shellenbarger Collection, Q:18 00-03596

Rights Holder

University of Oregon

License

Source

Gift of Michael Shellenbarger

Type

Format

Set

Primary Set

Institution

Citation

Smith, Dwight A. Historic Highway Bridges of Oregon. Portland: Oregon Historical Society, 1989

Conde Balcom McCullough (1887-1946), Oregon Encyclopedia, http://www.oregonencyclopedia.org/entry/view/conde_balcom_mccullough/

Note

The Siuslaw River Bridge is a bascule bridge that spans the Siuslaw River on U.S. Route 101 in Florence, Oregon. It was designed by Conde McCullough, built by the Mercer-Fraser Company of Eureka, California, and funded by the Federal Emergency Administration of Public Works (later renamed the Public Works Administration). It opened in 1936. The bridge's total length is 1,568 feet (478 m). When open, the 140-foot (43 m) double-leaf bascule provides 110 feet (34 m) of horizontal clearance for boat traffic. The bascule section is flanked by two 154-foot (47 m) reinforced concrete tied arches, identical to those used in the original Alsea Bay Bridge. Four Art Deco-style obelisks house mechanical equipment as well as living quarters for the bridge operator. The total cost of the bridge was $527,000.