Lawrence Hall, University of Oregon (Eugene, Oregon)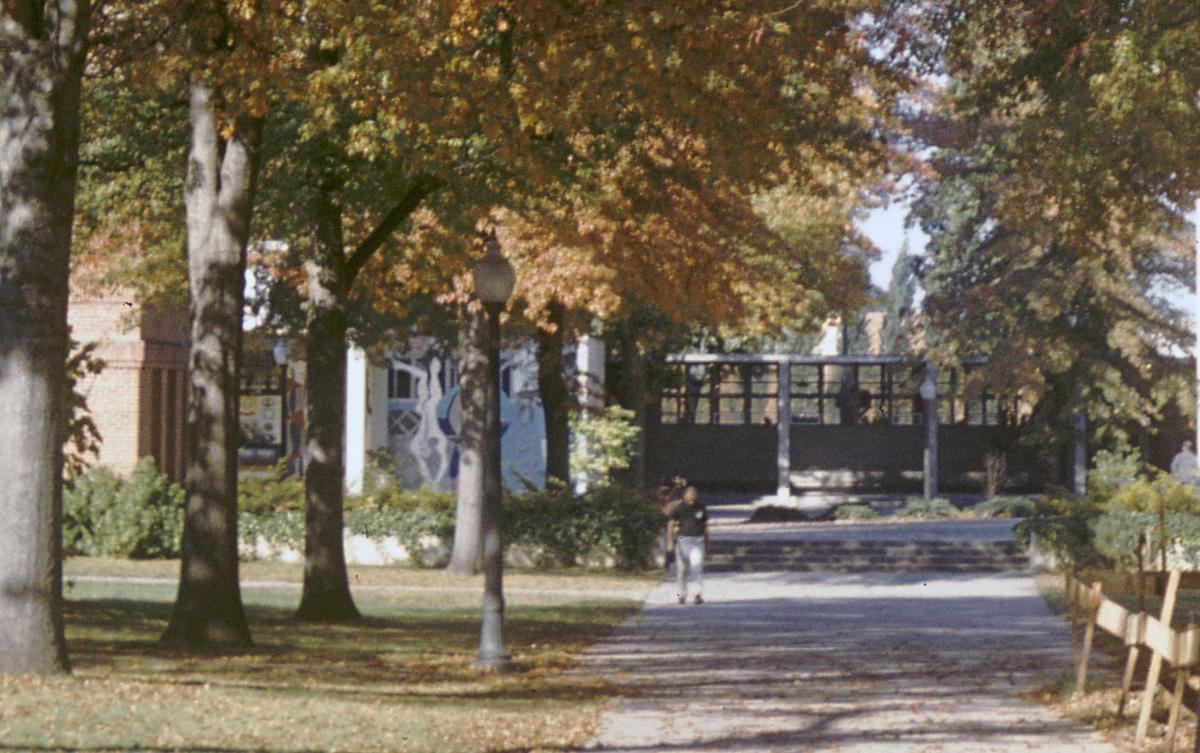 Title

Lawrence Hall, University of Oregon (Eugene, Oregon)

LC Subject

Creator

Lawrence and Holford Lawrence, Ellis Fuller Holford, William Knighton, William C., 1866-1938 Lazarus, Edgar M. Annand Boone and Lee Annand, John D. Boone, Harold B. Lei, Wilbert P.

Photographer

Creator Display

Lawrence & Holford (architecture firm, 1913-1928)

Ellis Fuller Lawrence (architect, 1879-1946)

William Gordon Holford (architect, 1878-1970)

William Christmas Knighton (architect, 1864-1938)

Edgar Marks Lazarus (architect, 1868-1939)

Annand, Boone, and Lei (architecture firm, 1955-1960)

John Davis Annand, Sr. (architect, 1907-1994)

Harold B. Boone (architect)

Wilbert P. Lei (architect, 1909-1960)

Description

This image is included in Building Oregon: Architecture of Oregon and the Pacific Northwest, a digital collection which provides documentation about the architectural heritage of the Pacific Northwest.

View

exterior: 1960 view of Lawrence Hall (center), with Journalism building on the left and Pacific Hall on the right

Provenance

Design Library, University of Oregon Libraries

Temporal

1900-1909

1910-1919

1940-1949

1950-1959

1970-1979

1990-1999

Work Type

architecture (object genre) built works views (visual works) exterior views universities (buildings)

Location

Eugene >> Lane County >> Oregon >> Pacific Northwest Lane County >> Oregon >> Pacific Northwest Oregon >> Pacific Northwest United States

Date

1901

1914

1923

1940

1957

1971

1991

View Date

1960

Identifier

pna_14690x.jpg

Item Locator

mdr02420 derived

Rights

Rights Holder

University of Oregon

Source

Gift of Wallace K. Huntington from the estate of Marion Dean Ross

Type

Format

Set

Primary Set

Is Part Of

University of Oregon (Eugene, Oregon)

Institution

Citation

Guide to the Ellis Fuller Lawrence Papers , Northwest Digital Archives, http://nwda-db.wsulibs.wsu.edu/findaid/ark:/80444/xv35243

Ellis Lawrence Building Survey, https://scholarsbank.uoregon.edu/dspace/handle/1794/2150

University of Oregon Heritage Landscape Plan, http://uplan.uoregon.edu/projects/HLP_website/hlpsurveyofbldgs.htm

Note

The building now known as Lawrence Hall consists of different structures combined and altered over time. The structures and changes include Mechanical Hall (Edgar Lazarus, 1901), the Architecture Building (William C. Knighton, 1914), major expansion and renovation (Ellis F. Lawrence, W. R. B. Willcox, 1923), Arts Wing (Ellis F. lawrence, 1923), additional wings to the north (Ellis F. WLawrence, 1940/41), replacement of arts wing and new south facade (Annand, Boone, and Lei, 1957), Brutlaist style addition and new south facade (Cambell Yost Grube hall, 1971), addition and new south facade (BOORA, 1991).

Teague, Edward H. "Introducing Edgar Lazarus, The Architect of Vista House," Vista House Views, FOVH Newsletter, Spring 2011, p. 1-2, 7, 9, 10-11.